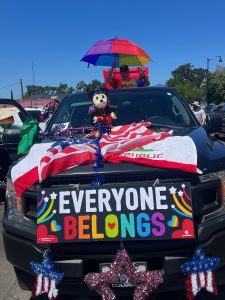 A group of Lake County Democrats were proud to participate in the 2023 Clearlake Annual July 4th parade (despite the very high temperature).
We led off with our banner
Lake County Democrats – Proud of our Diversity
followed by our decorated truck with Mickey Mouse on the hood proudly wearing his pride cape
and our signs – Everyone is Welcome, Everyone Belongs.
It was heartwarming that our message of diversity and inclusion received such a warm reception from the crowd.
Thanks to CA State Treasurer Fiona Ma's husband Jason for stepping in at the last minute with his truck after it became clear that weather conditions were not ok for our planned  horse color guard and our mini cooper.
And on to 2024.