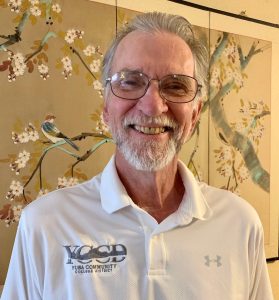 Lake County Democratic Party endorses Douglas Harris, Candidate for Yuba Community College District Area 7 Trustee
Doug Harris has been serving as the Area 7 Trustee on the Yuba Community College District (YCCD) Board since appointment in March 2022. Doug has associated with YCCD for over 20 years in a variety of capacities. He is committed to representing students, faculty, staff, and southern Lake County on the Board. Doug states, "The purpose of a community college is to meet the career, technical, and higher educational needs of each student and the unique communities they live in. Having taught at the Lake County Campus for over 20 years, in Adult Ed, Career-Technical and university prep classes, gives me insight into the challenges faced by the district's students – and the opportunities gained by completing a certificate, associate degree or university transfer requirements." In addition to teaching, Doug served on the campus' Site Council and the Academic Senate. He also served as a negotiator in the collective bargaining processes for over six years.
Doug has resided in Lake County for 48 years. He worked in several Human Service programs, such as the Area Agency on Aging and Protection and Advocacy while teaching for the college. Doug holds a Bachelor's degree from the University of Wisconsin at River Falls and a Master's in Social Work from San Francisco State.
Asked why he would like to continue as the Area 7 Trustee, Doug states, "Advocating for efforts of the Yuba District in meeting the needs of students in our diverse and unique communities, is my primary reason for seeking this position. It is important to have continuity in the Board as we continue building partnerships with our K-12 schools, business communities, and local governments. Currently, we are recruiting a permanent Dean for the Lake County Campus and Chancellor for the district. We are working to enhance course offerings for students, in the online format and face to face in the classroom."
Doug can be reached at dougharrisforyccdtrusteearea7@gmail.com. Electing Douglas Harris to the Board of Trustees will ensure continuation of support for our Lake County Campus and for the entire Yuba district.