Register by clicking HERE.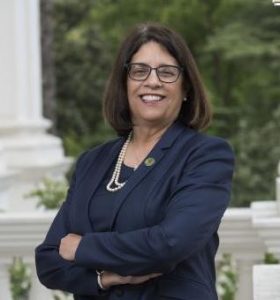 The Lake County Democratic Party will host Assemblymember Cecilia Aguiar-Curry on a virtual meeting, July 29, at 6:00 pm.  Ms. Aguiar-Curry has been serving Lake County as our State Assembly representative since January 2017.
Aguiar-Curry has represented Lake County's interests well.  One of her first accomplishments was to establish the Blue Ribbon Committee for the Rehabilitation of Clear Lake.  This was funded with $2 million from the State budget and may receive another $5 million from water bond funding. Another accomplishment specific to Lake County was the passage of AB 632 which allows Lake County to consolidate the elected offices of the Auditor-Controller and the Treasurer-Tax Collector into one single elected office.
Having grown up in the small rural town of Winters, then being the first female Mayor to serve her hometown, Aguiar-Curry knows the challenges of California's rural communities.  She has introduced legislation to improve healthcare and pharmacy access using the technology known as tele-health and tele-pharmacy.  She has been vocal and involved in discussions with PG&E regarding Public Safety Power Shut-offs.  She will discuss myriad other issues she has fought for to serve rural populations.
Her latest efforts on Assembly Bill 2074 establish clear guidelines for when companies from the olive oil industry can use the term "California" in their product labeling and marketing.
Assemblymember Aguiar-Curry will discuss her many efforts on behalf of all Lake County residents and will be open for questions.   This is your chance to engage and become better informed about her work.
Register by clicking HERE.
All are welcome!   You must register in advance to participate.