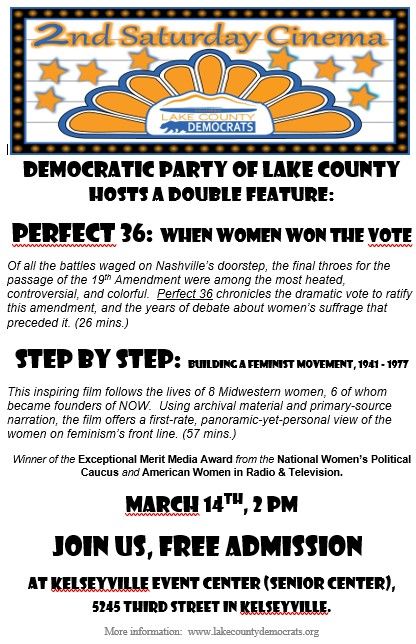 The Programs & Recruitment Committee hosts a double feature of Perfect 36: When Women Won the Vote and Step by Step: Building a Feminist Movement, 1941-1977 at their 2nd Saturday Cinema program on March 14th at 2 PM at the Kelseyville Event Center, 5235 Third St. in Kelseyville.  All are welcome.  Free admission.  Program completes at 4 PM.
Of all the battles waged on Nashville's doorstep, the final throes for the passage of the 19th Amendment were among the most heated, controversial, and colorful.  Perfect 36 chronicles the dramatic vote to ratify this amendment, and the years of debate about women's suffrage that preceded it. (26 mins.)
Step by Step is an inspiring film that follows the lives of 8 Midwestern women, 6 of whom became founders of NOW.  Using archival material and primary-source narration, the film offers a first-rate, panoramic-yet-personal view of the women on feminism's front line. (57 mins.)  Winner of the Exceptional Merit Media Award from the National Women's Political Caucus and American Women in Radio & Television.
Enjoy some snacks, camaraderie and fun discussion.  Here's an opportunity to learn, engage, and advocate.  In downtown Kelseyville.
———————–
2nd Saturday Cinema has been organized by the Programs Committee of the Lake County Democratic Party.  Associate membership in the Lake County Democratic Party is open to registered Democrats and dues are $30/annually.   Click on the JOIN US tab.