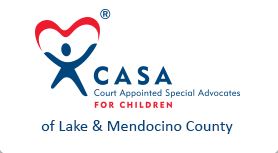 The Lake County Democratic Party will host Sheryn Hildebrand, Executive Director of Court Appointed Special Advocates (CASA) of Mendocino & Lake Counties at the Programs & Recruitment Committee meeting on March 11, at 6:00 pm at 16255 2nd Street in Lower Lake.  Ms. Hildebrand has led our regional CASA for nearly19 years.
A Court Appointed Special Advocate (CASA) is a trained volunteer appointed by a judicial officer to provide advocacy for a child who is under the jurisdiction of the courts due to abuse or neglect. The CASA serves as the "eyes and ears" of the judge for children in foster care. Volunteers spend time with children, monitor needed services, and provide child-focused recommendations to the court based on the best interest of the children they serve.
In addition to being the CASA Director, Ms. Hildebrand also serves as a Regional Coordinator for the North Coast Child Abuse Prevention Coalition working with Mendocino, Lake, Humboldt, and Del Norte Counties and the State Office of Child Abuse Prevention. She also sits on the Critical Incident Citizen review panel with the State of California focusing on reducing child death in the State of California. Sheryn is a member of both the Mendocino County Policy Council for Children and Youth as well as Lake County's Children's Council.
Ms. Hildebrand was born, raised, and still resides in Lake County with her husband.  Her time away from work is spent with 3 adult children and 9 grandchildren and many friends.
All are welcome!    Please join us to learn about one of the programs in place in our County which supports our children and teens living in foster care.