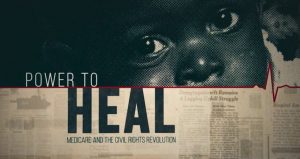 The Lake County Democratic Party will present the film Power to Heal at the Programs & Recruitment Committee meeting on January 8, at 6:00 pm in Lower Lake. Power to Heal is an hour-long public television documentary that tells a poignant chapter in the historic struggle to secure equal and adequate access to healthcare for all Americans. Central to the story is the tale of how a new national program, Medicare, was used to mount a dramatic, coordinated effort that desegregated thousands of hospitals across the country practically overnight.
Before Medicare, disparities in access to hospital care were dramatic. Less than half the nation's hospitals served black and white patients equally, and in the South, 1/3 of hospitals would not admit African-Americans even for emergencies.
Using the carrot of Medicare dollars, the federal government virtually ended the practice of racially segregating patients, doctors, medical staffs, blood supplies and linens. POWER TO HEAL illustrates how community leaders and grass-roots volunteers pressed and worked with the federal government to achieve a greater measure of justice and fairness for African-Americans.
Read more about this award-winning film here: Power to Heal
Attend this meeting for an opportunity to learn and engage.  All are welcome!
——-
The Programs Committee of the Lake County Democratic Party meets every 2nd Wednesday at 6:00 pm in the Social Hall of the United Methodist Church, 16255 2nd Street, Lower Lake.  All meetings are open to the public.  Associate membership in the Lake County Democratic Central Committee is open to registered Democrats and dues are $30/annually.