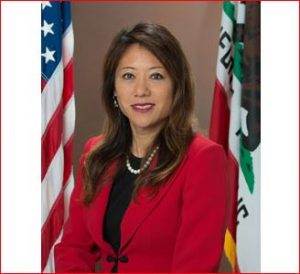 The Lake County Democratic Party invites you to the Programs & Recruitment Committee presentation by State Treasurer, Fiona Ma, August 14, at 6:30 pm in Lower Lake.
Our State Treasurer provides financing for our schools, roads, housing, levees, public facilities, and other crucial infrastructure projects that better the lives of all Californians. Ms. Ma oversees an investment portfolio of more than $102 billion, approximately $20 billion of which are local government funds. Her office serves as the agent for the sale of all State bonds and are the trustee on over $100 billion of outstanding debt.
Ms. Ma began her public service career in 2002 when she was elected to the San Francisco Board of Supervisors.  She served four years in that capacity, then ran for State Assembly.  Ma served for six years, including 2 years as Speaker pro Tempore.  Her next role was as an elected member of the California Board of Equalization from 2015 until January 2019.  She was elected State Treasurer.in November 2018 and took office earlier this year.  Already she is spear-heading initiatives like CalSavers (a retirement savings program for small business employees), cannabis-related business banking, clean energy bond financing, and various housing programs.  You will hear her energy, intelligence, and dedication when you attend our meeting.
Fiona Ma knows Lake County well.  She maintains a part-time residence in Clearlake.  She has been a consistent supporter of the Democratic Party of Lake County.
Q & A is encouraged, so come for your opportunity to engage with your elected officials.  To learn more about Treasurer Ma and her responsibilities to all Californians, visit the website:  https://www.treasurer.ca.gov/
All are welcome!
The Programs Committee of the Lake County Democratic Party meets every 2nd Wednesday at 6:30 pm in the Social Hall of the United Methodist Church, 16255 2nd Street, Lower Lake.  All meetings are open to the public.  Associate membership in the Lake County Democratic Central Committee is open to registered Democrats and dues are $25/annually.