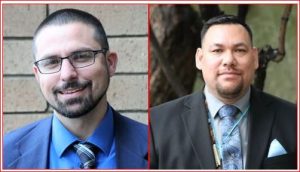 The Lake County Democratic Party invites you to the Programs & Recruitment Committee presentation by Bruno Sabatier and E. J. Crandall on Wednesday, July 10, at 6:30 pm in Lower Lake.   Both Sabatier and Crandall were seated on the Board of Supervisor in January 2019, after being elected by voters from District 2 and 3 respectively.  They will speak about their efforts as County Supervisors to improve the lives of our residents.
Mr. Sabatier has lived in Clearlake since 2008 with his wife Nicole and their two children.  In the same year that he earned a Bachelors Degree in Political Science from UC Davis, he was elected to the Clearlake City Council.  During his tenure, he served as a councilmember, vice-mayor, and mayor, and proudly advocated for the passage of Measure V for roads.  Sabatier was elected to the Board of Supervisors in 2018 and has been serving District 2 in that capacity since January.
Mr. Crandall grew up in Lake County, graduating from Upper Lake High School, where his son currently attends.  He served 8 years in the United State Army, served as planning commissioner in District 3, and led the Robinson Band of Pomo Indians as Tribal chair for 4 years.  While in the military, he earned his AA degree from American Intercontinental University.  Crandall was elected to the Board of Supervisors in 2018 and has been serving District 3 in that capacity since January.
Sabatier & Crandall will team up to address a range of issues focusing on initiatives to bring new revenues to the County, restore the health of Clear Lake, and build stronger relationships with community agencies, cities, and tribes to engender collaboration.  Q & A encouraged, so come for your opportunity to engage with your elected officials.
All are welcome!
The Programs Committee of the Lake County Democratic Party meets every 2nd Wednesday at 6:30 pm in the Social Hall of the United Methodist Church, 16255 2nd Street, Lower Lake.  All meetings are open to the public.