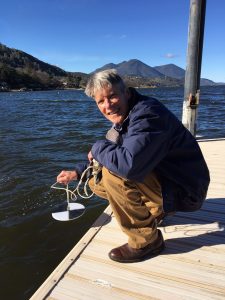 You are invited to the Programs Committee presentation by Dr. Harry Lyons and Rick McCann on Wednesday, June 12, at 6:30 pm in Lower Lake at the Methodist Church Community Room, 16255 2nd Street.   Dr. Lyons will speak about his work to restore the health of Clear Lake, and, with the help of Mr. McCann, will entertain us with song.  Two brave fellows!
Harry Lyons has lived in Lake County for over forty years, for much of that time conveying scientific information on Clear Lake to two generations of college students. The Emeritus Professor of Biology/Ecology from Yuba College (now Woodland Community College) grew up in Brooklyn, attended Rutgers College and Stanford University, and was awarded PhD in Oceanography as a National Science Fellow from the Scripps Institution of the University of California.
He currently pursues his interest in water by serving as a President of the Board of the Lake County Resource Conservation District and as a founding member of the Middle Creek Restoration Coalition. He has been appointed by the County Board of Supervisors to the Blue-Ribbon Committee for the Restoration of Clear Lake. As a member of the Restoration Coalition he will speak about the history, science, and politics behind the Middle Creek Flood Damage Protection and Ecosystem Restoration Project. As a member of the Blue Ribbon Committee he will review the promise and progress of the socioeconomic and environmental assessment commissioned by Assembly Bill 707.
No presentation by Dr Lyons would be complete without some relevant music. In that effort, Professor Rick McCann, who headed the Orchestral String Program for the Lake County Office of Education, will assist. Here is a chance to hear two of Lake County's favorite instructors.
All are welcome!