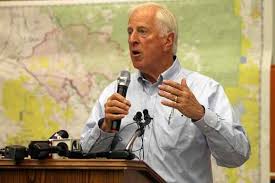 Our region is being hit by the largest fire in California history, threatening homes, businesses and lives across our district. Our thoughts are with those devastated by this disaster and those still evacuated, not knowing if they will see their homes again. We are deeply grateful to the incredible firefighters, law enforcement, and first responders working around the clock to keep us safe, often in harm's way themselves.
This week I wrote to the president, along with Democrats and Republicans from across our state, asking that he immediately grant a federal disaster declaration to provide the individual and public assistance that survivors will need on the road to recovery. Know that I will fight for every penny of federal support possible. Together, we will rebuild.
Everyone should take a minute to sign up for the alerts that will keep you and your family up to date on developments, evacuation procedures, and how to seek help.
To find out how you can help survivors, you can click here to learn about the Rotary 5130 Fire Relief Fund. Please let us know what we can do by replying to this email.
—Team Thompson